Hardwood Floors Refinishing
Refinishing Hardwood Floors with Sanding and Stain or natural color
AC/DC Floors LLC will come to you to sand, stain and finish your floors. First we sand down to the bare floor layer, taking off the old wax and varnish. Next you have the choice to go with a natural clear varnish a mini wax stain before we polish and coat the floor with either water base or oil base varnish depending on your needs.

Every time we refinish we bring life and shine back into your floors.
If you are unsure about what your floor requires?

We can do a free check up on the floor during a free estimate.
Contact us and we will be happy to meet you and your floor.
In order before, during, after: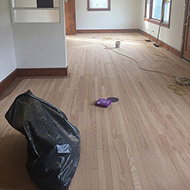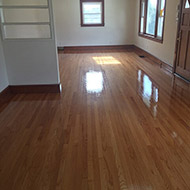 View our gallery for more and larger pictures



---
Dustless Floor Sanding system
Are you going to sand and refinish your floors and are concerned about the dust?

We do carry a Dustless system that helps reduce dust and debris from sanding. Even with the dustless system we also hang protective plastic, covering cabinets, countertops, and doorways. It helps a lot. Not necessary in every case but it does help those with respiratory problems or children around. By reducing the amount of dust in the air.

If you want to know more about the dustless floor sanding system. Contact us and we can go over more information during a free estimate.



---
Hardwood floor sanding repairs
We have had so many cases over the years working on different sanding repairs . In this picture it shows one of the common request, when a customer wants to refinish half or only part of the house and you don't wish have those ugly lines in the middle of the doorways.

We have worked hard to improve techniques to blend the colors as close as possible to match the new floor with the old existing floor, making that wish come true.

Pictures before, during, after, after final: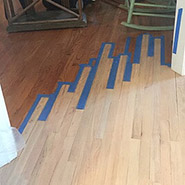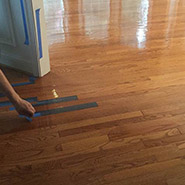 View our gallery for more and larger pictures


Here in this picture is another case. An old pine floor with water and rust damage. Sometimes a customer has a type of old wood that is very hard to come by.

We are able to help you out with this. We used our color blending style to get it as close as possible to the existing floor and make the repair.

Picture before, during, and after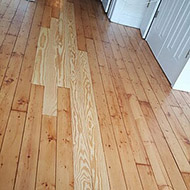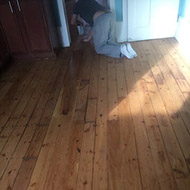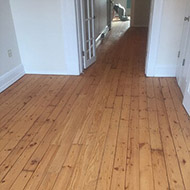 View our gallery for more and larger pictures



---
Work processing
We have many flooring processes depending on what you're looking for.

First we have lots of options to help guide you through the many things that come up during flooring jobs.

For example the time it may take to get the job done.
How many coats of varnish and type, such as water base or oil base can affect the time it takes to dry...

All of these questions can be answered during one of our free estimates...

Feel free to contact us and we can set up a day to come talk with you.
---
Hours:
Mon to Sat: 8:00 AM - 8:00 PM
Sunday: 8:00 AM - 6:00 PM
On Sundays, please leave a message
---